Dryer
Dryers are used in a variety of areas including chemicals and food, as well as the drying of sludge.
Murase, carrying forward technologies handed down from Komatsu Kansoon, aims at producing facilities that feature higher efficiency and lower energy consumption.
Belt-type through-flow dryer (B1)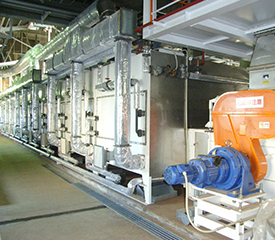 This type dryer dries material by forcing hot air from above or below through gaps between the beds. It can dry 5 to 20 times faster than a parallel-flow dryer that blows hot air parallel to the material bed surface.
The through-flow dryer places material, 3 to 15 cm thick, on a horizontally moving mesh belt or perforated-tray belt, and forcibly applies hot air through the beds.
Suitable for treatment by this dryer are preformed products and granular, flaky, and fibrous materials. Impermeable dehydrated cakes may also be applicable after pre-forming them.
Use of a multi-stage belt system enables the dryer to treat materials in large quantities.
Features

Static drying causes little damage to products, as well as scatters little dust.
Optimal drying conditions, including temperature, humidity, hot-air flow speed, etc., may be chosen depending on the material's dryness levels.
Material quantity and retention time in the drying chamber may be regulated at will thus securing homogeneous products free from uneven dryness.
Applications

Granular, fibrous, or flaky materials for food, animal feed and fertilizers; pre-formable dehydrated pigments, dyes, chemicals, iron oxides, or calcium carbonate cakes, and pre-formable slurries.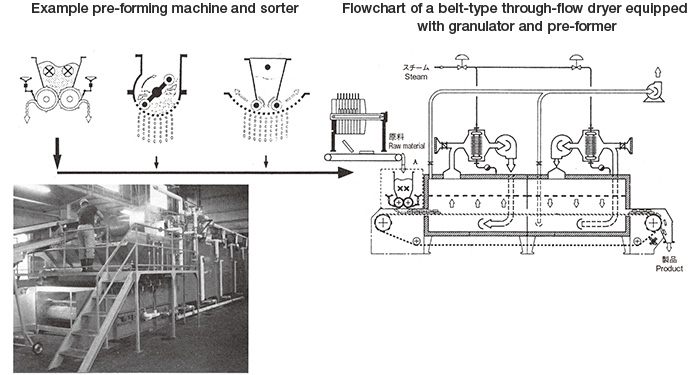 Through-flow dryer with shelved trolley (WT)

Complete clean-room type
Features

Drying speed 5 to 20 times higher than a conventional parallel flow dryer
Free from contamination despite trolley accompaniment
Other dryers
| | |
| --- | --- |
| DD | Double-drum dryer (DD) |
| DR | Reverse-rotation double-drum dryer (DR) |
| DS | Bottom-fed single-drum dryer (DS) |
| FD | Horizontal fluidized-bed dryer (FD) |
| RD | Rotary dryer (RD) |
| CT | Through-flow chest dryer (CT) |
| PB | Pneumatic cracker-dryer (PB) |